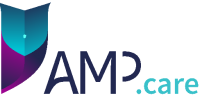 Communication for specialists
AMP.care is the platform-independent, telemedical solution for easy integration into the daily work of physicians in private practice, in inpatient and mobile care, as well as into the daily clinical routine of physicians.
Via end-to-end encryption and thus at the highest level of security, AMP.care enables message and file transfer, as well as co-presence through video conferencing.
AMP.care for communication between
(specialist) physician and nursing home or mobile care
peripheral hospitals and e.g. intensive care experts
(specialist) physician and (specialist) physician
AMP.care enables
virtual co-presence between two facilities/locations via video call
transfer of vital data, images & photos and digitized information from existing systems
prioritization of requests between users for better integration into the daily work routine
integration and transfer of measurement data from mobile examination devices
AMP.care can be used as a stand-alone system and is ready for use without major setup barriers. A connection to the existing software architecture of your facility can be implemented and enables the transfer of data from digital files. Interface integration takes place via HL7/FHIR as standard.
Advantages
AMP.care offers advantages for treating physicians, expert centers, care-giving facilities and patients.
Treating (specialist) physician /
Expert center
The personnel and time required to care for patients is reduced. In addition, greater reach and better care for patients, including those in the region, can be achieved.
Cost- and time-intensive on-site visits can be reduced to necessary missions, while prioritization of requests enables better integration into workflows and time independence of diagnosis from examination.
Treating
institution
Information on the state of health and specific inquiries can be recorded in a structured manner and transmitted transparently to the attending physician or an expert center without system interruptions.
The simple use of the supporting technology relieves the on-site staff through efficient integration into the daily work routine and reduces the time required for administrative tasks and coordination.
Patients
Patients can be examined comprehensively on site. Unnecessary and precarious transports to (specialist) doctors or hospitals can be avoided.
In urgent cases, the necessary expert knowledge is obtained immediately if required. As a result, patients can be better monitored regardless of their location and their well-being can be increased.
Certified data protection
Highest standards of data protection and security certified according to the Internet privacy standards. You can find more information about our certification here.
Are you looking for a suitable solution to make your everyday work easier using telemedicine?
Wir stehen Ihnen auch vorbereitend in der Analyse und Ausarbeitung einer für Sie passenden Lösung unterstützend zur Seite. Mehr zu unserem Vorgehen erfahren Sie hier
Und weitere Projekte, an denen wir im Bereich Gesundheitswesen arbeiten hier